Online services
Manage your investments and keep track of your cash flow with secure online services. HSBC offers a range of online tools that boost efficiency and give you flexibility to carry out trades or do business from anywhere in the world.
e-Solutions
Improve the efficiency of your trade operations with a range of e-trade products and services. We'll help you automate your work processes and cut costs. You can also arrange bill settlement instructions and check your trade account status online.
FX Prime Services
At HSBC we are focused on developing our relationships with FX clients. We have committed significant investment in developing a best-of-breed FX Prime Services offering based on superior service and sophisticated technology, leveraging the Bank's global presence, strong balance sheet and diverse franchise to meet your needs. We are committed to understand your business and tailor flexible solutions that work for you as your business continues to evolve.
Whether you are a hedge fund manager, asset manager, CTA, retail aggregator or financial institution, FX Prime Services offers you access to market liquidity in cash and options products, optimal capital management and operational efficiencies:
Use our extensive credit lines to access liquidity in the global foreign exchange market
Manage your unencumbered capital through customised funding, cash management and custodial options
Monitor your trade, limit, margin and collateral status in real time through our leading client interface and comprehensive reporting suite
Our team of experienced foreign exchange prime brokerage professionals in London, New York and Hong Kong are dedicated to providing you with the support that suits your needs
In partnership with HSBC Securities Services, our custody and fund administration business; HSBCnet, our suite of online, flexible financial solutions; and the broader Prime Services team, we offer you a host of creative solutions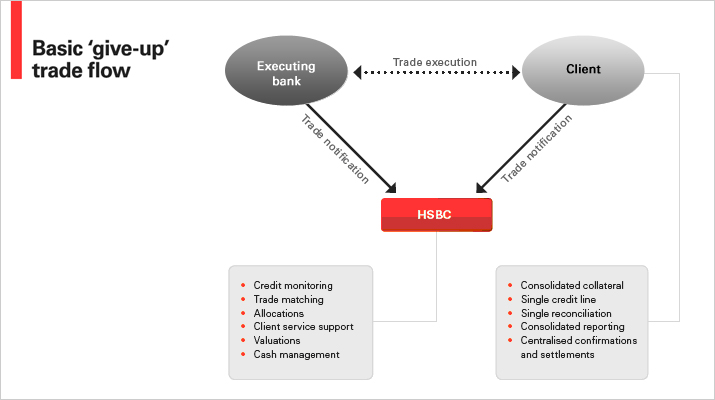 Trade give-up process
Client executes trade with executing bank.
Client and executing bank separately notify HSBC of their trade.
HSBC matches the trade details.
When trades are matched, HSBC books two trades (i) between HSBC and the client and (ii) between HSBC and the executing bank.
HSBCnet
HSBCnet offers a comprehensive suite of flexible online financial solutions – all designed to help you increase productivity and manage your cash flow. With real-time global account access and customisable setup features, you stay in control over of the finances at every level of your organisation.
Keep track of your payments, receivables, liquidity and the changing value of your assets – all with one secure, global solution.
Key features
One easy-to-use consolidated interface gives you comprehensive and global cash management, trade and supply chain, securities and global markets solutions
Flexible reporting tools help you manage your cash flow and supply chain needs
Multilevel, end-to-end security
Customisable workspace and choice of HSBCnet in supported local language and time zone
Centralised, automated and scheduled enhancements means there is no need to download software updates
Comprehensive, yet easy to use with intuitive navigation, online learning resources and telephone support in your local language when you need it
Convenient Internet access while in the office, on the road or in different countries
Align with your in-house Treasury Management Systems and Enterprise Resource Planning systems
Learn more about HSBCnet
View the HSBCnet Showcase and read more about what HSBCnet can do to help you manage your transactions and cash flow across the globe. We can help you decide which online solutions we offer are suitable for your organisation and how to integrate our services with your existing system.
Getting started with HSBCnet is also easy. Our step-by-step instructions will guide you through the entire process.
Contact us for further information.
Prime Finance
HSBC Prime Finance capitalises on our long established credentials in Global Banking and Markets and HSBC Securities Services. Prime Finance incorporates Global Futures and Options, Global Equity Finance and FX Prime Services, and is integrating Fixed Income and OTC Clearing.
Standard Settlement Instructions
These Standard Settlement Instructions are to be used for all transactions with HSBC Bank plc ("HSBC"), in the products denoted, unless otherwise specified at transaction level. Please follow carefully the instructions within the attached documents to ensure correct payment/delivery. These documents replace all previous editions.
Standard Settlement Instructions documents
Information for Windows XP and Internet Explorer 7 users
To further ensure a secure and user-friendly online banking experience, please be advised that as of April, 2014, HSBCnet no longer supports usage of the Windows XP Operating System and Internet Explorer 7 (IE7) web browser.
Please consider using later versions (such as the current Windows 8.1 or IE8 or higher) to avoid any inconvenience.