Welcome to HSBCnet as a new user. You have come to the right place if you are logging on to HSBCnet for the first time. Here you will find guides and videos to explain how to specifically access HSBCnet, based on your needs.
I have been provided a temporary username to log on and register
Get started on HSBCnet using your temporary username and learn how to activate your Security Device as well as your HSBCnet credentials.
I received an invitation from my System Administrator
When your company provides you access to HSBCnet, an email is sent by the designated HSBCnet System Administrator inviting you to join HSBCnet. Although the process is simple and straightforward, we have provided a guide that shows you how to use the link in your invitation email to begin the profile setup process. With the correct details and security measures to successfully log on to HSBCnet you'll be ready to go.
I need to activate my Security Device for the first time
This guide shows you how to set up your Security Device as a new user and use it to log on to HSBCnet for the first time.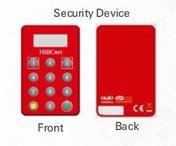 Before activating your Security Device, you will need:
The Security Device provided to you by your company system administrator or mailed to you from HSBCnet.
Think about an 8-digit number you are able to remember and use as your personal identification number (PIN). Do not share your username, Security Device or password with anyone, including your colleagues.
Important: The display window of your physical Security Device display various messages to inform you of actions required, next steps or if the device is experiencing any issues like a low battery. The following reference guide has been provided to help you interpret these messages should you see your device displaying something unfamiliar to you.